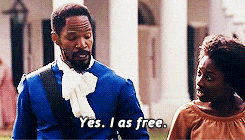 Abit confused here, because Django didnt need Will Smith, the legendary actor Jamie Foxx was fine.
Will Smith has done similar roles throughout his career, always action and sci-fi or something with a sci-fi element even Hitch. The "science of dating" So unless they threw aliens in there I doubt he would jump in. Think Wild Wild West Lol Jamie has done Ray, Law Abiding citizen etc his more diverse.
To add there was plenty of love in Django, a love for a blackman for his blackwoman during an apocalyptic time slavery, he stopped at nothing to get her back. Nothing. Thats true love. The doctor backing that and seeing that is true love, he was a great friend gave his life for love.
But even so, for the love Will Smith was talking about, it was not lacking in Django and there was the perfect role for him to express that love. Steve.
Would of been perfect lmao. All he needs is the deneuraliser from Men in Black use it on everyone so everyone can love through ignorance and amnesia lol